Suicide Cleanup Orange County
(866) 232-4197
Suicide cleanup services in Orange County are an important and necessary means of providing suicide survivors with the help they need. Suicides can leave behind difficult physical, emotional, and psychological messes that can be overwhelming for suicide survivors to handle on their own. Fortunately, suicide cleanup services in California provide a wide range of assistance that can make the process easier and less traumatic. Suicide Cleanup Orange County.
Biohazard cleanup services typically include a variety of different tasks that must be completed after a suicide has occurred. These tasks may include cleaning up blood or bodily fluids and disposing of hazardous materials. We also sanitizing the area, removing furniture and personal effects from the scene. In addition to these suicide cleanup tasks, we are very compassionate and discreet!
Survivors of Suicide
It is important for suicide survivors to find reliable suicide cleaning services in Orange County, California. Experienced biohazard cleaning companies should always be hired for suicide cleanups so that safety protocols are followed. This is because all hazards are properly managed according to local regulations. Crime Scene Clean Orange County will always help those affected by suicide and homicide.
In addition to offering direct cleaning services, we also act as advocates for those affected by suicide by providing information and resources. This includes connecting families with support groups such as Survivors of Suicide (SOS), which can provide families with additional education about coping strategies as well as making referrals for further counseling or mental health treatment if needed.
The aftermath of a suicide is one of confusion and grief, making it difficult for families. We understand their rights when it comes time to negotiate insurance policies or other related matters. By offering comprehensive mental health counseling along with physical cleanup services, suicide cleanup companies can reduce some of the burdens felt by those impacted by loss from suicide while helping them move through the process as quickly and safely as possible.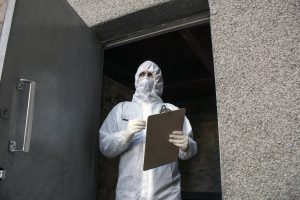 Suicide Cleanup Orange County ca
Biohazard cleanup is a service offered by professionals with knowledge and experience to safely restore homes and businesses. Our team of suicide cleanup experts in Orange County are dedicated to providing the highest quality of service possible. We understand that suicide is a sensitive topic, and we take great care to ensure that our clients are treated with respect and empathy throughout the process.
At Crime Scene Clean Orange County, our goal is to provide compassionate, professional suicide cleanup services as quickly as possible. We specialize in discreetly restoring homes, apartments, businesses and other locations without bringing attention or disruption to the area. Our technicians are certified in biohazard clean up, and use specialized techniques for removal of all biohazards. This includes cleaning surfaces, sanitizing fabrics and removing odors caused by the suicide event. Our team understands that suicide can leave deep emotional scars on survivors.
Attempted Suicide Cleanup Orange County
We take pride in offering comprehensive suicide cleanup services at an affordable rate. Our prices are competitively priced so you don't need to worry about financial burden during such a difficult time. Our staff is trained in suicide awareness and prevention methods, with many years of combined experience tackling suicide cleanup issues successfully.
If you or someone you know needs suicide clean up assistance, please don't hesitate to contact us — we're here to help 24 hours a day/7 days a week with whatever you need during this challenging period in your life.
Blood Cleanup – Suicide Cleanup Orange County
Our Blood cleanup services in Orange County are a necessary and critical service for ensuring safety, hygiene, and health in your home or business. Blood can contain bloodborne pathogens that can cause serious illnesses, making blood cleanup a top priority. This type of cleanup requires specialized cleaning agents, methods, and equipment to ensure the blood is safely removed from the area.
Bio cleanup is a very important step to take when cleaning and sanitizing a home or business. Blood can contain bloodborne pathogens, which can cause serious illnesses if left untreated. Blood Cleanup must be performed in a safe manner to ensure that all blood is removed from the area. Our Professional blood cleanup specialists use specialized equipment for removing blood from crime scenes, suicides, and unattended deaths.
Attempted Suicide Cleanup – Suicide Cleanup Orange County
No matter the situation, attempted suicide cleanup services are an incredibly important and necessary service. It is absolutely crucial that attempted suicide cleanups receive professional and compassionate care from highly-trained individuals who have expertise in this area. At Crime Scene Clean Orange County, we understand the trauma associated with attempted suicides and believe no one should have to experience such tragedy alone.
Our experienced team of experts is dedicated to compassionately addressing attempted suicide cleanup needs with the utmost respect for privacy and confidentiality. Our team will arrive quickly onsite, equipped with all necessary safety protocols in order to ensure that any potential hazards are addressed immediately and thoroughly. We are committed to providing a safe environment so everyone involved can begin the healing process.
Remediation services
Before beginning attempted suicide cleanup services, our team will assess the site in order to identify any potential health or safety risks. We employ an array of specialized cleaning procedures that include removing any hazardous materials, biohazards, or human remains while using hospital-grade disinfectants as well as personal protective equipment (PPE) like gloves, masks, booties, and coveralls for added safety.
Our attempted suicide cleanup services also extend beyond removing physical debris and hazardous materials. We offer emotional support for those affected by attempted suicide by listening without judgement and providing referrals for mental health professionals when appropriate.
At Crime Scene Clean Orange County, we understand how difficult it can be after dealing with attempted suicides. This is why we ensure that your home or business is properly decontaminated and restored back to its pre-tragedy state. With years of experience helping people through traumatic experiences just like yours, you are not alone. allow us to make things a little easier for you so you can focus on taking care of yourself first before worrying about restoring your space back to normal again.
About Suicide Awareness
Suicide is a growing problem around the world, and suicide awareness is an important part of suicide prevention. Raising awareness about suicide can help to reduce the stigma associated with it. This creates a more supportive environment for those who are struggling with suicidal thoughts or have lost a loved one!
When someone is considering suicide, many times they don't know where to turn for help. By raising awareness about suicide, we can provide individuals in need with the resources and support necessary to get help. Suicide prevention campaigns often focus on identifying warning signs, risk factors, and promoting help-seeking behavior.
Risk factors for suicide include mental illness, substance abuse problems, physical health issues, access to lethal means (e.g., firearms), family history of suicide, past suicide attempts, bullying and social isolation/loneliness. Warning signs that someone may be thinking of suicide include talking about wanting to die or kill themselves; feeling hopeless; withdrawing from activities; expressing feelings of worthlessness or guilt; displaying aggression or rage; giving away possessions; exhibiting changes in eating or sleeping habits; engaging in risky behavior; and talking about being a burden on others.
Suicide Warning Signs – Suicide Cleanup Orange County
It's important to note that these warning signs do not necessarily mean someone is suicidal. This individual could just as easily indicate depression or another mental health issue. This is very important to pay attention when people start exhibiting these behaviors rather than jumping to conclusions. It's also important to remember that anyone can experience suicidal thoughts at any time.
If you are thinking about suicide, it's important to know that there are people out there do care. It's essential that everyone has access to mental health services if needed in order to prevent suicide from occurring. For people whose friends or family members have died by suicide it's also important for them to find support as well so that they don't feel alone during this difficult time.
Raising awareness about suicide is the first step towards preventing deaths due its complexities. Together we can make an impact by encouraging conversations around this topic and offering our support whenever possible. Feel Free to contact Crime Scene Clean Orange County anytime for all suicide cleaning services. Local emergency cleaning services for all death and trauma related scenes. We are fast, compassionate, and affordable! 24hr dispatch center for all biohazard remediation services.